Week In Review: Price correction begins [10th to 14th Aug 2020]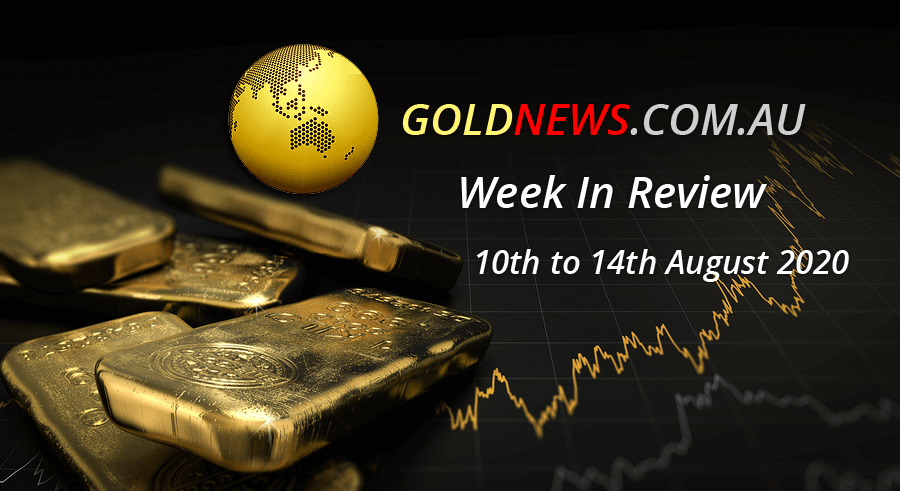 After the phenomenal runs witnessed last week, price correction of gold and silver kicked in.  Both precious metals had similar price patterns this week- starting on a high note and falling midweek before getting on an upward trajectory as the week came to an end. Some experts labelled the correction 'overdue' pointing that the gold and silver prices were over-extended.
Daily Summary
Monday 10th August 2020: Gold traded at $2098.08 USD ($2925.38 AUD) at the end of Monday. Silver, for a second time in two weeks, almost managed $30 at the close of the day trading at $29.23 USD ($40.76 AUD).
Tuesday 11th August 2020: After an unsuccessful attempt to record a new high, gold fell by 5.08% to $1926.07 USD ($2685.54 AUD). Silver had a similar trajectory dropping by 11.32% to $25.92 USD ($36.14 AUD). This was one of the most significant 1-day drops, especially for the former, as gold hedge funds took to sell a large chunk of their holdings to cash in on the high price profits.
Wednesday 12th August 2020: The trend continued on Wednesday, with both gold and silver going down further. Losing 5.08% from Tuesday, gold dropped to $1921.16 USD ($2678.69 AUD) – a 0.255% decrease. Silver settled at $25.66 USD ($35.78 AUD) – a 1% drop from the previous day.
Thursday 13th August 2020: Both metals bounced back on Thursday primarily due to the repurchase of new replacement hedge fund holdings. Gold climbed by 1.58% to $1951.49 USD ($2720.98 AUD) while silver shot up by 6.66% to $27.37 USD ($38.16 AUD) at market close.
Friday 14th August 2020: The upward trend witnessed on the previous day didn't last long. Gold sank again, this time by 0.35% to $1944.59 USD ($2711.36 AUD) as the week came to an end. Silver, on the other hand, fell by 3.25% to $26.48 USD ($36.92 AUD).