Week In Review: Gold and silver prices weaken as global equities gain [7th Sep to 11th Sep 2020]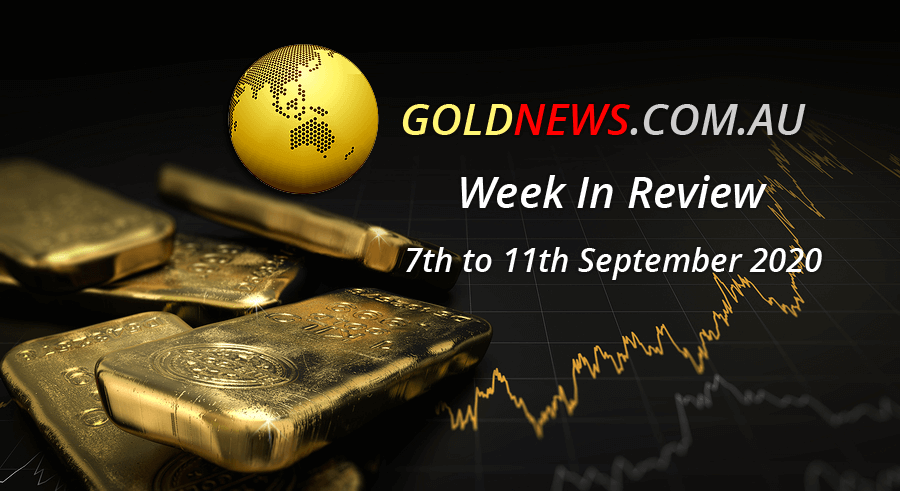 The haven metals traded at moderately low prices this week. Risk appetite took an upswing especially late in the week as indicated by global stocks markets that saw an upswing at the end of the trading week.
Although daily equities market volatility picked up, it couldn't quite shake the marketplace. Keeping in mind, it is still early September we may potentially witness rough waters in the stock and financial markets. Both gold and silver markets went back and forth during the week without setting new highs.
Monday 7th September 2020
Gold traded at a slow $1929.11 USD ($2650.37 AUD) at the start of the week whereas silver settled at $26.88 USD ($36.93 AUD).
Tuesday 8th September 2020
After a poor start at the beginning of the week, gold moved up to $1930.55 USD ($2652.35 AUD) – a $1.44 gain. Silver, on the other hand, closed the day at $26.53 USD ($36.45 AUD) – a 1.3% downturn.
Wednesday 9th September 2020
Both precious metals picked the pace 0n Wednesday. Gold recorded a 0.83% upswing trading at $1946.57 USD ($2674.36 AUD). Silver, too, posted a 1.7% increase to close the day at $26.98 USD ($37.07 AUD).
Thursday 10th September 2020
Wednesday's trend didn't last long as both metals saw a drop in their prices on Thursday. Gold fell by $1.34 to $1945.23 USD ($2672.51 AUD). Silver traded at $26.89 USD ($36.94 AUD) at the end of the day – a 0.33% decline.
Friday 11th September 2020
Silver tried to gain ground ahead of the weekend but only managed to settle at $26.73 USD ($36.72 AUD) after taking a o.6% drop. Gold price also went down by 0.2% to $1941.51 USD ($2667.40 AUD).