Week In Review: Gold, silver prices plunge [26th to 30th Oct 2020]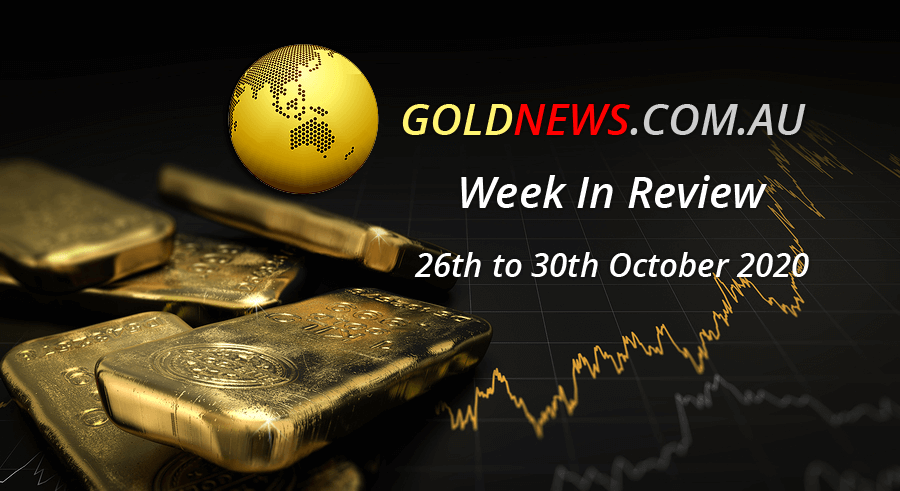 The prices of the precious metals fell this week and despite a late upside momentum as the week came to an end, they couldn't recover. Gold dipped below its key $1,900 level as silver struggled to stay above the $24 level. Market analysts attributed the slump mainly to the expiration of futures contracts.
The price as well as the volume of gold was influenced by these contracts as their cycle was close to the end. The higher US dollar and upcoming US elections were other contributing factors. As a result, majority of the investors have chosen to watch from the sidelines until there's a clear direction.
Here is a summary of the price changes during the week
Monday 26th , 2020
Gold traded at $1902.04 USD ($2713.66 AUD) at the close of the first trading day of the week. Silver, on the other hand, swung around the $24 mark settling at $24.29 USD ($34.65 AUD) at the end of the day.
Tuesday 27th, 2020
The metal prices stayed relatively steady on Tuesday. Gold pushed upwards to settle at $1906.96 USD ($2720.68 AUD). Silver gained a few points as well trading at $24.33 USD ($34.71 AUD) at the close of the day.
Wednesday 28th, 2020
Both havens metals lost with gold dropping 1.5% to $1878.24 USD ($2679.70 AUD). Silver plunged by 3.82% to $23.40 USD ($33.39 AUD) – going below the $24 an ounce level.
Thursday 29th, 2020
The downward trend persisted on Thursday as the precious metals lost even further. Gold price fell to $1866.41 USD ($2662.83 AUD) – a 0.63% dip. Elsewhere, silver traded at $23.23 USD ($33.14 AUD) after losing 0.73%.
Friday 30th, 2020
Despite an attempt to recover by both metals, neither could get above its key level. Gold gained by 0.66% moving to $1878.67 USD ($2680.32 AUD) whereas silver climbed to $23.65 USD ($33.74 AUD) after posting a 1.81% increase.